Plain
Classic kitchen in a timeless design
The Plain model is an excellent option for those seeking a classic kitchen design without breaking the bank.

The straightforward cabinet doors emanate a classic and timeless appearance, providing ample opportunities for captivating combinations with other models and colors.
When your kitchen dream is a classic kitchen
Kitchen colours
To achieve a serene ambiance, consider selecting a single, consistent color for your kitchen. If you're seeking a more adventurous aesthetic, explore the option of crafting an intriguing color scheme by blending various shades together. This choice allows you to infuse your kitchen with your preferred style and level of vibrancy.
Note: Grey and Dusty Grey is Swan Ecolabelled.
Facts
Model Plain features a sturdy 16 mm decorative door, finished with a matte melamine coating. To enhance the classic kitchen design, the door is adorned with a textured acrylic edge banding.
The surface of these decorative doors is constructed from durable melamine, a material composed of paper and adhesive that is pressed onto a particle board.
Experience the texture of the doors, run your hands over the worktop, grasp the handles, and witness the ample storage capacity within the cabinets.
At our HTH stores, you'll encounter expansive and captivating showcases of kitchens, bathrooms, and wardrobes. This immersive experience allows you to explore the potential and draw inspiration for your own project.
Choice of materials
VH-7 handle grooves
For those seeking a handleless kitchen design, the Plain White and Plain Grey options are ideal choices for HTH's exclusive VH-7 Concept. This concept offers a refined and luxurious kitchen ambiance, featuring seamless cabinet doors. The handle grooves are available in a versatile range of 11 colors. Explore a curated assortment below: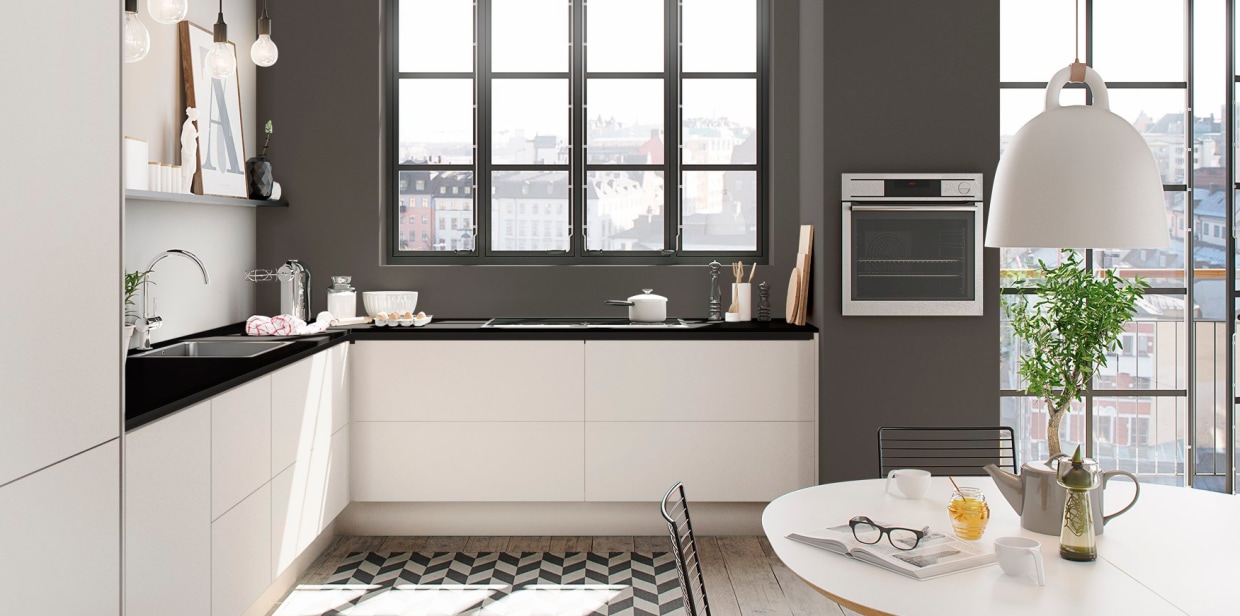 Kitchen
Modern Kitchen in warm tones
Are you dreaming of a modern kitchen with smooth cabinet doors in warm tones? Then Stockholm could be the perfect choice for you.
Stockholm offers the perfect blend of comfort and affordability for those seeking a distinctively cosy kitchen. The unique Mocha shade offers a refreshing departure from the conventional white kitchen, infusing your home with a warm and inviting ambiance.
Inspiration
The worktop that
elevates your kitchen
Selecting a worktop for your timeless kitchen doors holds considerable visual influence. The chosen worktop material can shape the style of your kitchen to your liking. For instance, opting for a solid wood worktop can infuse a touch of warmth that harmonizes beautifully with the classic kitchen aesthetic.
Explore the diverse range of worktop options
See more classic kitchens