Mono
Fall in love with Mono's simple design
Model Mono is a kitchen with white lacquered doors that doesn't compromise on quality, even though it's available at a highly competitive price.

The white kitchen and the Mono model are, for good reason, among our most popular designs. The lacquered doors are versatile, matching almost any handle and countertop, enabling you to achieve the exact look you dream of.
When white is your kitchen choice
Colours
Model Mono is available in one colour:
Facts
Mono is a 16 mm cabinet door that is coated with a durable lacquer. The doors have chamfered edges with a small radius, giving them a beautiful and soft look.
The lacquered doors are easy to clean and require minimal maintenance.
Experience the texture of the doors, run your hands over the worktop, grasp the handles, and witness the ample storage capacity within the cabinets.
At our HTH stores, you'll encounter expansive and captivating showcases of kitchens, bathrooms, and wardrobes. This immersive experience allows you to explore the potential and draw inspiration for your own project.
Choice of materials
VH-7 handle grooves
For a sleek, handleless white kitchen design, consider the Model Mono tailored for HTH's exclusive VH-7 Concept.
The VH-7 Concept is centered on a suite of elegant and practical handle grooves, distinguishing the handleless VH7 kitchen through its slender vertical and minimalist horizontal lines. Unlike many handleless kitchens that require cuts into the door, our unique grooves eliminate that need, preserving the door's integrity. These handle grooves come in a palette of 11 diverse shades. Explore our curated selection here: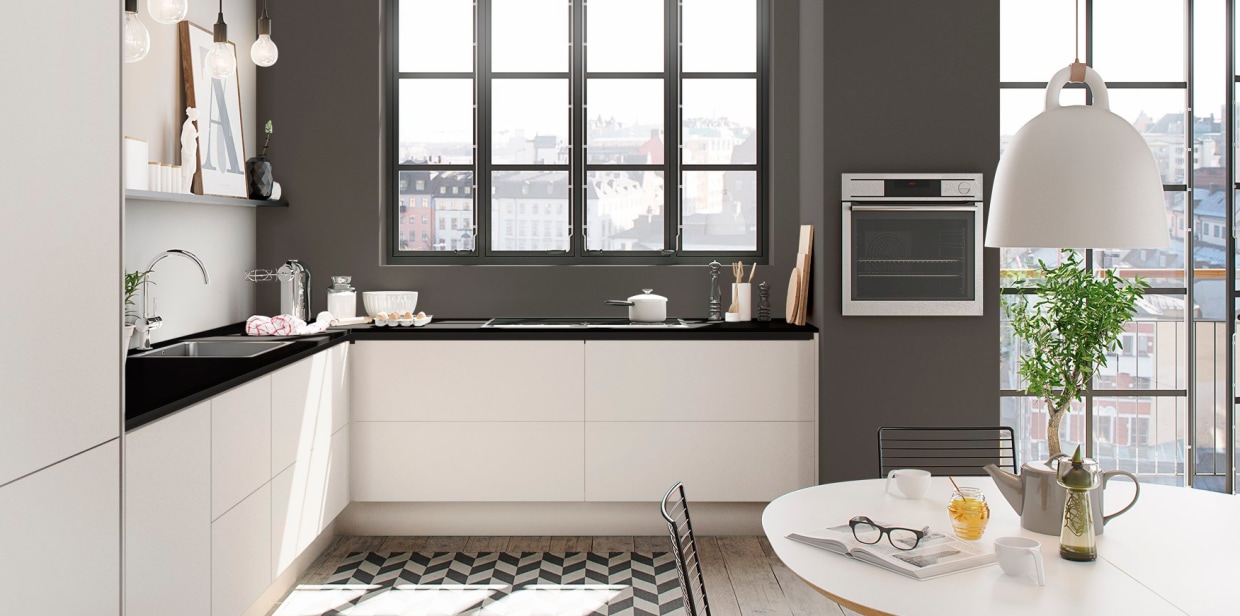 Inspiration
A higher price tag doesn't always equate to superior quality.
Staying within your kitchen budget can be achieved in numerous ways, including opting for cost-effective designs like the Model Mono.
We've compiled various tips to guide you in optimizing the cost of your new kitchen, taking into account material selection, layout decisions, and installation methods.
See how to keep the kitchen budget
Inspiration
Create personality
with open shelves
There are countless methods to infuse character into your white kitchen, with open shelving emerging as a predominant trend currently.
Open shelving offers diverse styling opportunities. For instance, by forgoing doors on your wall cabinets, they can transition into encased open shelves. Alternatively, you can opt for classic single-board shelves for a lighter, more airy aesthetic. Whether you prefer the illusion of floating shelves or wish to accentuate them with ornate brackets, the choice is yours.
"You can't go wrong with a white kitchen"
The majority of kitchens I sell are white, and there is a good reason for that. White is the perfect base that makes it easy to change the kitchen style without replacing the entire kitchen. When the white kitchen needs a refresh, it can easily be done with new dish towels, flower pots, or a new wall colour. - Sofie Larsen, Kitchen expert.
See other white kitchens