Focus Laminate
Experience the limitless possibilities of a laminate kitchen with a touch of uniqueness.
The Focus Laminate model offers a versatile kitchen solution crafted from durable laminate material, allowing you to infuse your personal style into both the design and decoration of your kitchen space.

These resilient laminate doors are offered in a diverse array of colors. By integrating the Focus Veneer and Focus elements, you open up an abundance of possibilities to craft a distinctive and individualized ambiance within your kitchen.
A laminate kitchen with clean lines
Colours
Focus Laminate is available in the following laminate colours:
Available with wooden edging in Natural Oak, White Oak and Black Oak. The wooden edges are surface-treated with durable lacquer.

Facts
The Focus Laminate is a 19 mm kitchen cabinet door featuring a high-pressure laminate coating and complemented by solid wood edge bands. This combination provides both durability and aesthetics.
Laminates are known for their durability and low maintenance requirements, making them ideal for kitchen use. The addition of solid wood edge bands not only enhances the door's appearance but also offers protection to the edges, contributing to the overall appeal of the laminate kitchen design.
Experience the texture of the doors, run your hands over the worktop, grasp the handles, and witness the ample storage capacity within the cabinets.
At our HTH stores, you'll encounter expansive and captivating showcases of kitchens, bathrooms, and wardrobes. This immersive experience allows you to explore the potential and draw inspiration for your own project.
Inspiration
Create a raw and industrial look
By incorporating a minimalist laminate design, you can effortlessly infuse an industrial aesthetic into your kitchen – a prominent trend in modern kitchen design. The industrial style brings forth a rugged yet straightforward charm, creating an impactful and unrefined atmosphere in your space.
Experience the industrial kitchen trend
Inspiration
Kitchen design that
stays on budget
Creating your dream kitchen doesn't have to strain your budget. It's about identifying your priorities and recognizing that inventive solutions can imbue your kitchen with character and style. By focusing on what truly matters to you, you can achieve a kitchen that reflects your vision without overspending.
How to ManagE your kitchen budget
Choice of materials
VH-7 handle grooves
If you're aiming for a stunning handleless kitchen, the Focus model is an excellent choice for HTH's exclusive VH-7 Concept. This concept offers a contemporary kitchen with sleek doors. The handle groove is available in a variety of 11 colors. Take a look at a few options here. See a selection here: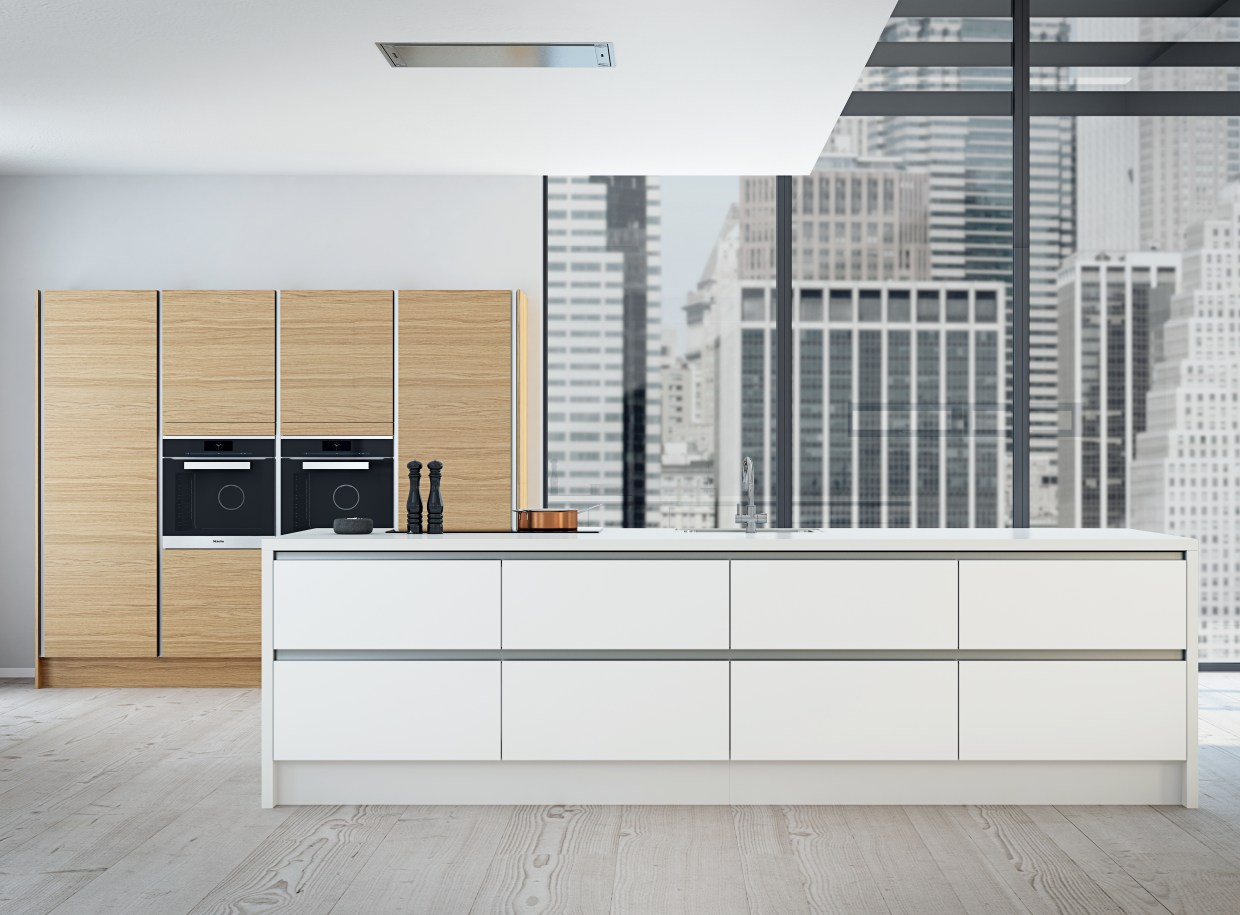 " Laminate stands out as one of the most durable materials for your cabinet doors."
For a truly durable kitchen, my top recommendation is to opt for laminate doors. These doors are built to withstand the rigors of daily use and are also incredibly easy to maintain and keep clean. - Thomas Karlsen, Kitchen expert.
See more kitchen models